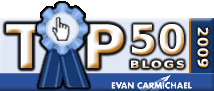 Evan Carmichael of EvanCarmichael.com has recently published an impressive list of blogs to follow (Twitter, Twitter...) this year 2009. Guess what : everything Sustainability is at the top of this list.
Forget Web 2.0, WebTV, and all the geek stuff. This year, Green is the motto. Let's hope it will stay so for the hundred years to come.
To start with, you may subscribe to TreeHugger right now.
However, the key question is: when will Guy Kawasaki launch his own new venture in the Green field ? ;-)